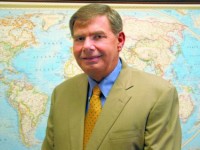 Independent Leaf Tobacco Company was formed in April, 2006 by Richard D. "Rick" Smith, who retired after a 39-year career buying and selling tobacco around the world for Export Leaf Tobacco Co. in Wilson, NC. Working as an independent tobacco dealer, ILTC buys all types of tobacco from growers and sells it to a myriad of domestic and international customers.
Born and raised on his family's farm in Pitt County, Rick not only worked in the tobacco field but also his family's tobacco auction warehouse. Upon graduation from NC State's Agricultural Institute program in 1967, he joined Export Leaf Tobacco Co. as a processing plant foreman. Later, Rick earned a bachelor's degree in business management.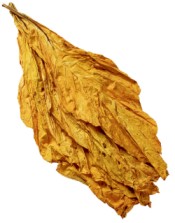 Over the years, Rick served Export Leaf Tobacco, a subsidiary of Brown & Williamson Tobacco, as a leaf buyer and supervisor and was named senior manager of leaf sales in 1991. Eight years later he was promoted to director of leaf buying and sales. With the merger of B&W with R. J. Reynolds Tobacco Corp. in 2004, he became director of leaf sales for Export Leaf, a division of R. J. R. Tobacco.
In addition to being responsible for all leaf buying and sales for B&W, and most recently R. J. R. Tobacco, Rick was extensively involved in the company's corporate and government affairs and farm relations activities.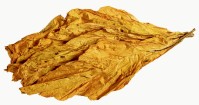 Within the tobacco industry, Rick served as a past president and chairman of the executive committee of the Tobacco Assn. of the United States. He currently sits on the board of directors of the Tobacco Growers Assn. of North Carolina and serves as president of the North Carolina Tobacco Foundation.
A past member of USDA's Tobacco Advisory Committee, Rick now serves as an appointed director of the North Carolina Tobacco Trust Fund Commission.
Rick is also a past president and current board member of the Alumni Board of Advisors of the College of Agriculture and Life Sciences at NC State University. In 2002, he received the "National Volunteer of the Year Award" presented by the National Agricultural Alumni and Development Association.
Rick has established the headquarters of Independent Leaf Tobacco Co. at a former tobacco warehouse at 2905 Yukon Rd. in Wilson, NC. Rick continues to be actively involved in the family farming and warehousing operations in Pitt, Edgecombe, and Wilson counties.
Honors for ILTC's Rick Smith
In honor of his many years of service to the tobacco industry, Rick has received two prestigious awards from the NC tobacco industry. In 2004, Rick was named a "Tobacco Great" by NC State Crop Science Department.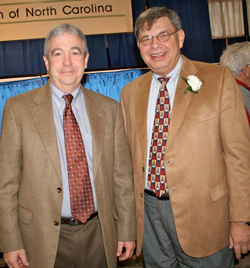 Then, in 2010 Rick was presented with and "excellence in Agriculture" award from Tobacco Farm Life Museum Chairman Norman Harrell and NC Ag Commissioner Steve Troxler. Previous recipients of the award included Troxler, Bill Lamm, Frank Grainger, and Bill Collins.